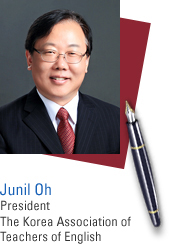 I am honored to serve the Korea Association of Teachers of English (KATE) as its 25th president.
KATE has steadily grown since its birth in 1965, and the organization now has a membership of approximately 1,600 English language teaching professionals. KATE is widely recognized as the leader in English language teaching in Korea, and it is a community of English language teachers that even international professionals love to be part of. The remarkable voyage by KATE over the past 47 years would not have been possible without the exemplary dedication of former presidents and members who steered the ship named KATE through tough seas and high winds.
The captain of a big ship can navigate an uncharted territory ONLY with the indispensable help of experts in diverse areas. Likewise, as the new captain of a ship carrying those dedicated to English language teaching, I plan to seek wisdom from former presidents and obtain assistance from vice-presidents and board members who have proven records of academic excellence and self-sacrificing dedication to English language teaching. TOGETHER, we will navigate the vast sea of English language teaching for the next two years.
There are a host of things that we can do to make the two-year voyage a successful one. However, priorities should be given to three major tasks. First, the new team of sailors will take on the predecessors' pursuit of international recognition for the journal, English Teaching. No efforts will be spared to further elevate the quality of the quarterly, to the point that the publication is something worth perusing and citing.
Another major task which KATE needs to undertake is to bridge attention-demanding gaps within the community. We will look for ways to narrow the gap between research and practice. Also, we will be all ears to find ways to bridge the gap between young scholars and seasoned ones. Bridging gaps, of course, will take a great deal of ingenuity, creativity, and resourcefulness. Nevertheless, it is a noble cause that all KATE members will gladly aspire to.
Last, but not the least, is the task of making KATE's voices heard. KATE has been joined by scholars of exceptional calibre, and its journal has continued to encapsulate fruits of fine research over the years. Notwithstanding, KATE's voices have been lost perhaps in the midst of loud claims by non-experts. Now, it is high time that KATE's voices were heard loud and clear by policy-makers, curriculum designers, materials writers, and other important stake-holders.
As the captain in charge, I would like to request your continued support for the organization. I hope that everyone on board will be able to say in the summer of 2014, "I really enjoyed being part of it all."
Welcome aboard!